Lectures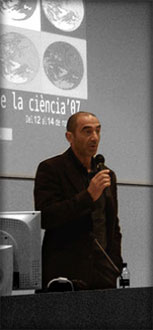 "WHAT'S THE WEATHER LIKE?"
Aimed to anybody who wants to understand the weather. Throughout the 1.30 minutes of the lecture we will learn about the weather phenomena that affect us like the wind, storms, hail, lightning and thunder, snow, rain, fog. We will learn to read weather maps in a very entertaining and educational way. We will also talk about weather apps.
"WEATHER AND HEALTH"
How the weather affects our health, both physically and emotionally, we will talk about the Foehn effect, thunderstorms, fog, positive ions...
"CLIMATE CHANGE AND THE ENVIRONMENT"
Changes in climate over the past 1000 years. The twentieth century, evolution, contradictions, what can we do to improve the environment...
"WEATHER AND MUSIC"
With an assortment of musical excerpts that go from the XVIIth Century to the XXIst, explanation of weather phenomena through music.
"METEO-KIDS"
Explanation of weather events with games and funny anecdotes for children 8 to 14 years